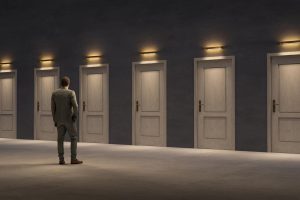 Jim was feeling the pressure. He was getting it from his friends. He was getting from his parents. He was getting from his teachers. Everyone wanted to know where he wanted to go to school. His problem was he didn't want to go anywhere. He had to decide what he was going to do.
Jim was a decent student. He did well on his SAT's and he always figured he would go to college like everyone else. But lately, he was having second thoughts.
First, Jim overheard his sister and brother-in-law talking. He'd gone over to their apartment to swim in the pool. After he was done and toweling off, he went to their apartment to say goodbye. They didn't hear him enter. He paused when he heard them in a pretty intense discussion in the kitchen.
"Kim, we just can't afford it," said Frank, his brother-in-law. "We can't even afford a decent place to live."
"But the government keeps pausing the loan repayment and there's talk of the loan forgiveness."
"Nothing's been forgiven yet," said Frank. "I don't think we can hope for that. I mean, we do owe the money."
"It's just so unfair. I mean, that's not how it's supposed to work. We'll never be able to pay our college loans back."
"Now Kim. Don't say never. It's just going to take time."
"Take time? We're going to spend a decade or more paying back loans from four years of college. At this rate, we won't be able to afford to start a family until we're in our thirties."
Jim heard his sister softly crying and quietly slipped out without interrupting the couple. What he heard was a shock. He knew college was expensive, but wow. And he knew his parents would help as much as they could, but they didn't have that much money and Jim had two younger brothers.
If he went to college, he would have to take out his own set of loans. One of Jim's better traits was his frugality. He didn't want to go into debt, especially not big-time debt.
While the conversation he overheard from his sister was giving him second thoughts, one of his best friends gave him more to think about. Dale had already applied to Tech and been accepted. He wanted Jim to attend with him.
"C'mon Jim," urged Dale the other day. "Get off your butt and get your application in. It'll be great. We can room together and pledge my big brother's fraternity."
"I don't know, man. I don't even know what I want to major in."
"It doesn't matter. The classes are all bull anyway unless you want to major in engineering," said Dale before making a retching sound. "My brother says the profs let you know what they want to hear and you just repeat it back for the grade."
"What do you mean?"
"Except for the engineering professors and a few of the business professors, all they want is for you to give them some politically correct, woke crap on tests and you'll ace everything. It's just like Mrs. Warren's government class. Argue and she beats you down. Agree and she passes you."
"So what's the point of going to college?" asked Jim.
"Par-tays," replied Dale enthusiastically. "Mixers with sororities. Four freaking years of sowing our oats. It'll be awesome."
Jim just shook his head. It wasn't that he didn't like fun. He did. But shouldn't he learn something? All he felt like he learned from Mrs. Warren was he hated politics. If that was the norm in college, why should he go into debt for four years of political indoctrination? Did he have to go into debt to meet girls? Well, maybe that was a dumb question. Did he have to go into a decade's worth of debt?
His problem was he didn't know what he wanted to do if he didn't go to school. He had considered the military. When he talked with Mr. Simpson who lived next door, that died.
"Look Jim," Mr. Simpson explains. "I'm the last guy to tell someone not to go into the military. It made me who I am. I mean, I flew fu-, uh, freaking jets off aircraft carriers. Do you want to know one of the scariest things in the world?"
"Yeah, I know," said Jim. "It's landing on an aircraft carrier at night in a storm."
"Hmm. Guess I've told you about that."
"Yeah," said Jim. "And I get it. But I don't have to fly jets. I might go into the Marines."
"Do you know why the navy allows the marines on ships?" asked Mr. Simpson.
"Yeah, I know, so the sailors will have someone to dance with," said Jim.
"Guess I've told you that one too."
"Maybe once or twice," said Jim. "But I still think the marines are bad-ass."
"Let's hope they still are," said Mr. Simpson. "I don't know if you've been keeping track with what's going on in the service, but, and I say this with a little unease…"
"What?" demanded Jim.
"I'm worried about our fighting forces. The military seems more worried about politics than our ability to make war. I saw a navy training video recently where the entirety of the video was about the proper use of pronouns. Training should be about defeating the enemy, not fu-, uh, freaking pronouns."
More politics, thought Jim. It was everywhere. "Okay, Mr. Simpson. I get you. I just have to figure something out."
Jim went home. At dinner, his parents asked him about his college applications. "I don't know if I want to go to college," he answered.
"What?" asked his dad. "You are going to go to college."
"Why?"
"Because that's how you get ahead in this life."
"You mean the way Kim and Frank are buried under their loans?" asked Jim.
"Hey," said his father.
"I don't want to be an engineer and I don't want to tell professors what they want to hear simply to get grades."
"Peace," interjected Jim's mom.
Needing to get in the last word, his dad added, "If you don't go to college, you can't expect to hang around here without paying your way. You need to get a job."
"Fine," said Jim.
"Fine," said his dad.
After dinner, Jim started scrolling through the job ads on his phone. The first looked promising, but then he realized it was selling overpriced cutlery. That sucked.
The next after that was setting appointments for door-to-door vacuum cleaner sales. That sucked more.
Then, he saw one that seemed appealing. It stated, "Are you mechanically inclined? Are you a people person? Are you also money motivated? We'll pay you $17 per hour for a training wage. Attend our academy, get paid to learn, earn more down the road, plus benefits. We offer careers in an essential industry that protects the health of the nation. Call King Plumbing at 555-1221 for more information."
Jim was familiar with John King, the Plumbing King. His ads were everywhere. But plumbing? He didn't want to be a plumber. How do you get girls when you're a plumber? He kept scrolling. But one after another, he either didn't qualify or the jobs sucked.
At school the next day, he kept thinking about the Plumbing King ad. It wouldn't hurt to find out a little more. After school, he called the number. "It's a great day at King Plumbing where we treat our customers like royalty. How can I serve you?" answered a cheerful person. "Uh, hi," said Jim. "I'm calling about the ad for the academy."
"Oh terrific," replied Miss Enthusiastic. "Let me connect you with our recruiter."
Jim heard the phone ringing. "This is Stephanie," answered a woman. "How can I serve you?"
"Hey Steph, I've got an inquiry about the academy on the line. I'll hang up and you can take him."
"Uh, hi," said Jim. "My name is Jim Marshall and I'm sort of interested in the academy, but I'm still in school."
"No worries," said Stephanie. "We have another class starting mid-June. Will you be out by then?"
"I'd better be."
"Okay, so you are aware, we require a personality test and mechanical aptitude test before we accept you in the academy. Should you pass those, we will conduct background checks and administer a drug test. There won't be a problem will there?"
"Uh, no ma'am. But, well, it's just that…"
"Yes."
"Well, I don't know if I want to be a plumber. I don't know if that's right for me."
"I see," said Stephanie. "Can I put you on hold for a second?"
"Sure," said Jim. He wondered if he should just hang up. Maybe this wasn't a great idea.
"Mr. Marshall," said Stephanie returning to the line. "Would you be able to drop by our office later this afternoon? Mr. King would like to meet you and talk with you about the plumbing profession to assess if it indeed is right for you."
"Mr. King? Like the guy on the ads? John King the Plumbing King?"
Stephanie laughed a little. "One and the same. Would 4:00 or 4:30 be better for you."
"I guess 4:00."
"Okay, are you calling from your mobile?"
"Yeah."
"I'll text you the address."
Just like that Jim found himself with an appointment to meet a guy who was somewhat of a local celebrity.
***
When the time came, Jim entered King Plumbing's offices. There was a large reception area. "You must be Mr. Marshall," said a peppy woman who sounded like the person Jim talked with on the phone. "Take a seat and I'll ring Stephanie."
Stephanie arrived and handed Jim a stack of forms. "This is a personality profile. Just answer it as honestly as you can. We use these to help ensure that we are putting people in the right seats. In other words, we know the type of personality types who do well in the different positions we offer. We won't try to put you into a job you won't like or succeed at. The next test is the mechanical aptitude test. This helps us assess whether you have the innate ability to do the work. Next, is our application, which you will need to complete. Finally, here are brochures on the academy and on the company."
"Wow," said Jim. He was a little overwhelmed. His stereotype of plumbers was that they were little more than knuckle draggers, but so far King Plumbing seemed like a professional, sophisticated organization.
"You can complete this and bring it by at your convenience. Just don't wait too long, because June will be here before you know it and we generally fill all of our academy slots," said Stephanie with a smile. "Now, let's go meet Mr. King."
Stephanie led Jim to a large, glassed-in office. He recognized John King from the ads. The man was large and somewhat heavyset with a jovial expression. He was pacing back and forth energetically while talking on the phone. He waved them into the office as he finished his call.
King immediately walked over to Jim, thrust out his right arm to shake Jim's, and grabbed his forearm with his left for a two-handed shake. "You must be Jim. Come on in and take a seat. I've got it from here Steph," he said dismissing his recruiter.
"Uh, yes sir," said Jim.
Jim found that it was impossible not to like the man instantly. King smiled broadly and dove right in. "Do you know why you want to be a plumber?"
"Uh, why?"
"Because every mother wants her daughter to marry a doctor or a plumber."
"What?"
"Think about it. Mothers want the best for their daughters. Both doctors and plumbers are useful. And both make good money. Well, both can make good money. A lot of plumbers don't realize how important they are to the world, but I do. And, all of the plumbers at King Plumbing do."
"What's good money?"
"I'm glad you asked." King nodded at the big window fronting his office. One of his plumbers was walking by. He was wearing khaki pants and a King Plumbing polo. "Take Jerod there. He's 25 years old and he's on track to break $100 thousand this year."
Jim's jaw nearly hit the floor. Was it really true? He had no idea that plumbing could be so lucrative.
King launched into the importance of plumbing to society and how there would always be a need for plumbers. He talked about the freedom and independence that comes from operating a service truck. He talked about the career opportunities that exist. Then, he talked about the academy and everything he would learn. Before Jim realized it, an hour had come and gone.
"There's only one catch," said King. "If we take you through the King Plumbing Academy, you agree to work for us for two years. We're going to invest quite a bit of money teaching you the plumbing profession. If you quit before the two years are up, you'll owe us for a portion of the training. If we decide you won't cut it, no harm and no foul. You keep what you learned and won't owe us a thing."
"How many people wash out?" asked Jim.
"Oh, probably 30% of the class won't make it to the end. And that's okay. It just means that this wasn't the right profession for them. It's better to end the relationship sooner than later. So, what do you think?"
"I think I've got a lot to think about."
"Well, let me give you something else to think about. Once you learn a trade, you can always fall back on the trade. You might decide you want to go to college down the road. Plumbing can help you pay for it. It's how I paid for school. The old man wasn't going to help."
"You went to college?"
"Yes. I have a degree in finance. You see, I didn't start King Plumbing. Dad did. I thought I wanted to get as far away from the trade as possible. I thought a finance degree was the ticket to a nice desk job in an air-conditioned office."
"And?" asked Jim, fascinated with this turn in the conversation.
"And I made more money working for Dad as a plumber," laughed King. "I didn't like being broke, so I picked up my tools and asked Dad for a job. Over time, I bought the company from him and slowly began applying what I learned in school and what I learned from attending conferences and from an alliance of plumbing contractors. King Plumbing took off. Now my biggest challenge is growing my team, which is why I'm talking with you."
***
Jim went home and reviewed all of the material Stephanie had given him. King Plumbing Academy sounded like an interesting opportunity. They would teach him how to troubleshoot and repair plumbing problems, how to interact with customers, and even how to manage his personal finances. It seemed to Jim that he would get more practical knowledge from KPA than from college. Plus, he wouldn't have to deal with politics. He took the tests and filled out the application.
***
Two years later, his buddy Dale was home for Christmas. Jim drove over to see him one Saturday. "Duuude," said Dale when Jim pulled up in front of his parent's house. "Nice ride."
Jim looked at his new F-150 King Ranch Edition truck, smiled, and shrugged. "I like it."
"So what's it like," asked Dale, "plunging people's toilets."
"It's not what you think. What I do is really important. Today, for example, I went to look at a water heater that kept turning off. It turned out that some idiot had blocked the vent. I'm pretty sure that I saved a life or two today."
"What? How?"
"Well, the vent is supposed to remove carbon monoxide," answered Jim. When he could see Dale still wasn't getting it, he added, "You know, the clear, odorless gas that's a byproduct of gas combustion and can kill you quickly?"
"I guess."
"So what are you up to?"
"I just finished my finals, staying up all night studying stuff I'll never use. I have to take calculus next semester," Dale said as he rolled his eyes. "Can't wait."
"We have to use a fair amount of math in plumbing, though a lot of guys just use rules of thumb. Everything we use is practical. Since I'm mostly in service, I don't do as much as the new construction plumbers and the commercial guys."
Dale looked at him like he was an alien. "Hey, let's go grab some beer. Tech is playing in a bowl game. Let's kick back with a couple of brewskis and watch it."
"Why don't we go to my place," asked Jim. "Your parent's TV is kind of small. I've got a 72-inch with surround sound."
Dale just stared at Jim. "What?" Jim asked. "I make pretty good money."
Over Dale's Christmas break, Jim spent less and less time with Dale. They were living in different worlds. It seemed to Jim that college was like a halfway house towards adulthood and Dale wasn't growing up. Meanwhile, Jim had become a much more serious person.
As he thought about it, Jim realized that he had shouldered a lot of responsibility. He drove a company truck worth tens of thousands of dollars with around $8 thousand of inventory. While he reported in after every call, he was largely working on his own unless he ran into something he needed help with.
After graduating from King Plumbing Academy, Jim moved out of his parent's house and was on his own. While he was spending money, he was also saving it. Yes, he was given a lot of responsibility and was acting responsible, but he was also independent and enjoyed a sense of freedom his friend Dale couldn't comprehend.
Jim thought about the decision he made. His friend was in college, amassing a pile of debt, and it seemed, learning little practical knowledge. Jim had started a career, one that he found he really enjoyed and was learning a lot about his trade and life. Not only was he largely debt free, but he also had money in the bank. If he wanted, he could always go to college down the road. For now, the decision to join the plumbing profession seemed like the right one to Jim.
See also:
Jobs at SG Heating & Air Conditioning LLC
All content written by Matt Michel of Service Nation, Inc DBA Service Roundtable, © 2022 Comanche Marketing. Reprinted by permission.