Quality Whole-House Generator Installations in Mercer and Bucks County Since 2005
Don't Get Left in the Dark!
In the event of a serious or prolonged power outage, having a reliable power source is not only convenient – it is potentially life-saving. Install a whole-house generator for your home with help from the experts at SG Heating & Air Conditioning LLC. Since 2005, we have been selling, installing, and maintaining whole-house generators for homeowners throughout Bucks County, PA and central New Jersey, particularly in the Princeton, Millstone, and West Windsor communities where power outages are common.
A generator is like insurance – if you wait until you need it, it's too late. That's why you should call SG Heating & Air Conditioning today at 609-448-1273 for a consultation about installing a Kohler generator for your home.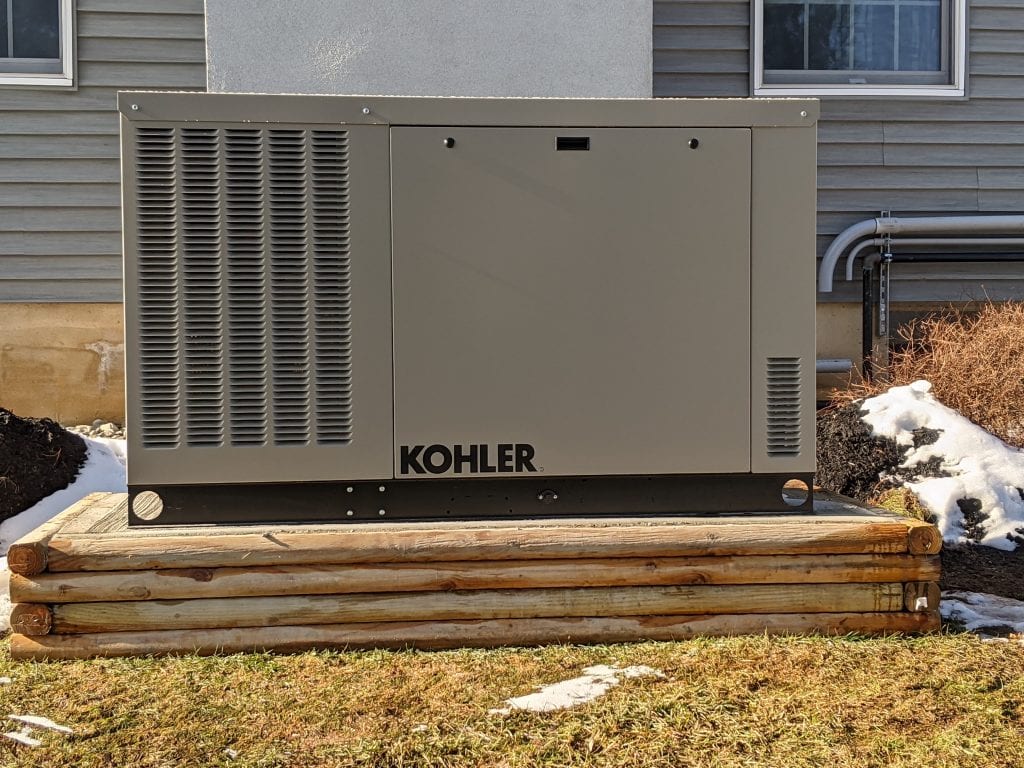 Our generator installations, like this one, can protect your home against power outages in the Mercer County, NJ area
Safeguard your home against power outages with a generator installation from SG Heating & Air Conditioning!
Whether your home's electricity is provided by JCP&L, PSE&G, PECO, or another company, a power outage will happen sooner or later, and your home can benefit from a backup power source. We offer the expertise and experience you need, so you are never without power. We keep an extensive parts inventory in stock, and can service and repair most residential and light-commercial generators. Unlike many of our competitors, we are authorized warranty providers for the brands we sell. Earning this certification requires extensive specialized training as well as ongoing education to provide the best possible service and keep up with technological changes.
We are a "Turnkey" contractor, and handle all aspects of the installation, including permits, paperwork, and drawings, so there is only one party responsible. This saves you the inconvenience and cost of switching from one contractor to another as your installation project progresses from one phase to the next. Our job isn't done until your generator is ready to go!
We also have 24-hour service available for our Maintenance Plan customers!
Whole-House Generator Maintenance
When we conduct an annual Generator Precision Tune-Up, we'll perform all the necessary tasks and tests to make sure your generator will be ready to do its job when you need it. This includes (but is not limited to) changing the generator's oil, doing a performance test, updating the firmware if needed, and replacing the oil filter, air filter, and spark plugs.
Whenever possible, we use the original equipment manufacturer (OEM) parts kits to ensure compatibility and proper operation.
Other benefits of this maintenance plan include a discount on consumables and priority scheduling for emergency service. If you have a prolonged outage and require additional tune-ups as a result, the extra tune-ups are performed at a discount as well.
FAQs About Generators
How much does it cost to install a generator?
In addition to the cost of the generator, the total price of your generator installation will include planning, permit preparation, site preparation, and labor and materials for the actual installation. The final price will depend on the generator's capacity and model. We will help you select the best Kohler generator depending on your home's specific needs. Our consultative approach means we work with you to find the best fit for your home and budget.
What are the benefits of a generator?
A generator protects your home from power outages. In today's technological world, reliable power is a necessity. For example, people who depend on CPAP machines or other respiratory devices may face health and comfort challenges without access to electricity. Power outages also lead to decreases in productivity, loss of communications, and compromised security. You can prevent these issues with a generator. Your home's lighting, computers, phone system, security system, heating, air conditioning, water, and other electrical equipment will continue to work when they're backed up by a generator. Additionally, a generator installation adds to your home's resale value.
What causes power outages?
Bad weather might be the first thing that comes to mind when you think of power outages, but there are many other events that affect your home's access to electricity. Besides bad weather conditions (lightning, wind, rain, snow, extreme heat or cold, and ice), power outages can result from:
Grid overload and other utility equipment problems
Trees falling or growing into power lines
Animal contact
Accidental human actions, which may include things like underground digging, cranes, and vehicle collisions with utility poles
Deliberate damage, hacking, or attack
How long does a generator installation take?
On average, the actual generator installation takes several days to complete. The entire process from the time you sign your agreement till the work is completed usually takes about one month. We have to prepare and submit for zoning approval in most towns. After the approval, drawings and permit applications must be submitted, and the town has 21 business days to review and approve the permit. Any changes or requests reset the clock. Fortunately, we handle the entire process and shepherd the applications through all the steps.
Are generators loud?
We call the engine noise of a generator running during a power outage the sound of success! Generators have a reputation for being loud, but how much sound your generator produces depends in large part on what brand you have installed and the quality of the preparation and installation. The Kohler models we install are among the quietest on the market. In general, they are quieter than a lawn mower.
See also: More
Generator Questions & Answers
Don't wait — call SG Heating & Air Conditioning today at
609-448-1273
or fill out our quick and easy
contact form
for a consultation about installing a generator for your home.
---
Service Area:
Burlington County, NJ
Bordentown
Chesterfield
Columbus
Georgetown
Mansfield
North Hanover
Monmouth County, NJ
Allentown
Cream Ridge
Millstone Township
Roosevelt
Middlesex County, NJ
Cranbury
Monroe Township
Plainsboro
Mercer County, NJ
Ewing
Hamilton
Hightstown
Hopewell
Lawrence Township / Lawrenceville
Mercerville
Pennington
Princeton
Princeton Junction
Robbinsville Township
Titusville
Windsor (East Windsor, West Windsor)
Somerset County, NJ
Bucks County, PA
Fairless Hills
Langhorne
Levittown
Morrisville
Newtown
Washington Crossing
Yardley
See outages in your area:
JCP&L OUTAGE MAP
PSE&G OUTAGE MAP
PECO OUTAGE MAP
Princeton, West Windsor, Millstone, Pennington, Hopewell & Cranbury NJ