Ductless Heating & AC System Installation & Repair in Mercer County, NJ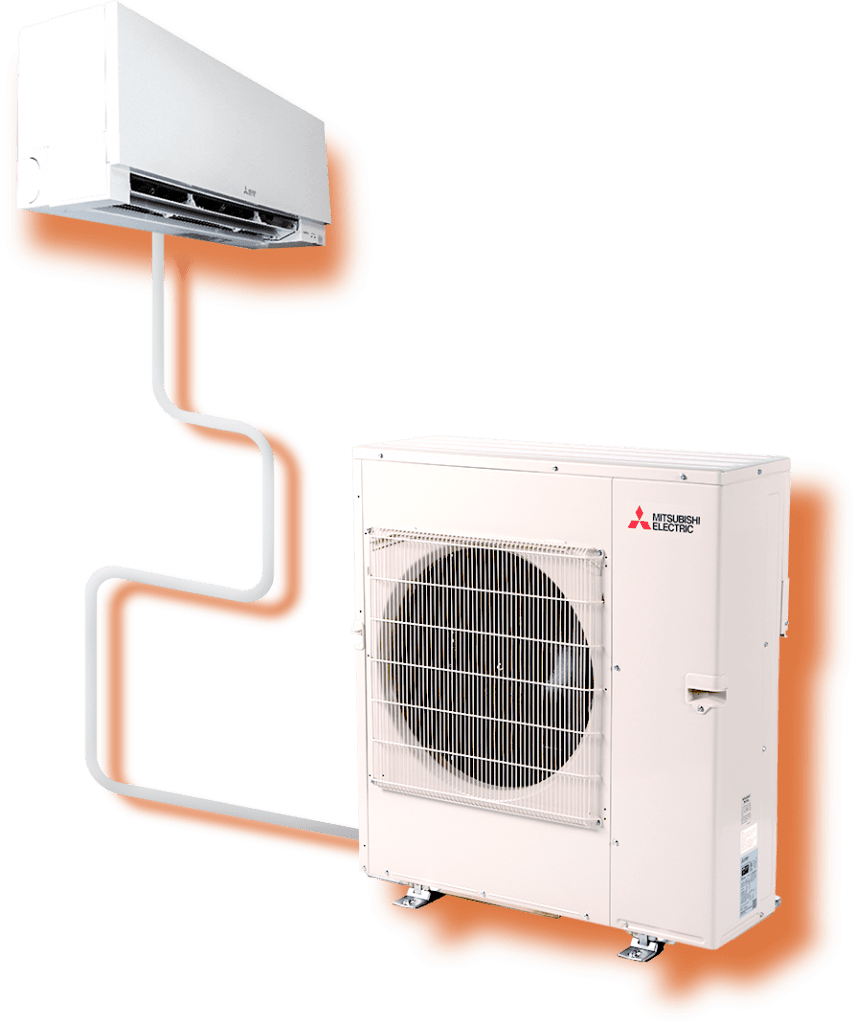 A Single-Head Ductless Heating and AC Unit from Mitsubishi Electric
SG Heating & Air Conditioning LLC is proud to be a Mitsubishi Electric Diamond Dealer and to install the Mitsubishi Electric brand of ductless heating and cooling systems. Mitsubishi Electric systems are the "best of breed" and offer numerous advantages you should know about! Mitsubishi Electric invented the mini-split AC system in 1959. The market has been growing by leaps and bounds since then, and today, Mitsubishi Electric is the leading manufacturer of mini-split systems in the United States. The fact that these systems are continuing to
grow in popularity
isn't too surprising when you consider the advantages they offer:
How Ductless Heating & Cooling Systems Work
Sometimes referred to as mini-split systems, multi-split systems, or split-ductless systems, ductless systems deliver hot or cool air directly to individual rooms. They can be installed almost anywhere, and consist of one or more indoor units and a companion outdoor unit that can run multiple indoor mounted units.
Every building has areas that are warmer or colder than others. For example, a room over a garage will often be warmer or colder than the rest of the upstairs, depending on the season, because of its location above unconditioned space (the garage). Likewise, sunrooms tend to be warmer in the summer because of all the windows, and colder than the rest of the house in the fall and winter for the same reason.

Although Mitsubishi Electric systems can use ducted air handlers too, the ductless heads are dedicated to the room or rooms they serve. A ducted central air system distributes air throughout the building and can't usually address the individual rooms that, due to location or construction, are at a different temperature. Ductless cooling and heating systems help you to solve this problem. They allow you to control the heating or cooling to individual rooms, zones and locations. You can keep each area at the ideal temperature!
Easier Installation
Installing a ductless heating and cooling system doesn't involve the kind of major construction a conventional system may require. The system's pipes are small and require only a three-inch hole to the outside, so in most cases your contractor doesn't have to tear open ceilings or walls to complete the installation.
If you're worried that your home or business isn't compatible with a ductless system because you already have a ducted system, don't be! We can often fit a ductless system to replace the old system without removing the central air system, or use it to supplement the problem rooms or new additions.
Going Ductless Saves Money!
As utility costs continue to rise
, you may find yourself spending more and more money to heat and cool your home or business, even though some areas are unoccupied and unused most of the time. A ductless system enables you to put a stop to this waste energy, as you control the temperature of each of the rooms in your home or place of business individually.

Ductless systems are the most efficient air-cooled air conditioners on the market, and among the highest-efficiency systems manufactured. Since they deliver air directly into a room, they are not subject to distribution losses. Because they are so efficient, in addition to operational savings, installing a ductless system may qualify you for a federal or local

tax credit

and state rebate!
Go Green with TEAM GREEN!

®
Ductless systems consume less energy, and are an eco-friendly option. This is especially true of mini-split systems manufactured by Mitsubishi Electric, as the company follows ENERGY STAR

®

guidelines, which are stricter than the energy-efficiency legal requirements set forth by the federal government.
Ductless Systems Improve Indoor Air Quality

!
The multi-stage filtration built into ductless systems can remove bacteria, allergens, dust, and other pollutants from the air you breathe. Since each head serves only one area, it discourages transmission of contaminants from one area to the next.
Mitsubishi Electric + SG Heating & Air Conditioning = A Comfortable Home for You!

Mitsubishi carefully selects the contractors it trusts to install its products.
SG Heating & Air Conditioning is a Mitsubishi Electric Diamond Contractor. This means that we have had the training, sales and expertise to achieve a high-level Mitsubishi Electric standard. We perform installations of Mitsubishi Electric ducted and ductless heating and cooling systems throughout our service area, which includes (but is not limited to):
Burlington County, NJ
Bordentown
Chesterfield
Columbus
Georgetown
Mansfield
North Hanover
Mercer County, NJ
Ewing
Hamilton
Hightstown
Hopewell
Lawrence Township / Lawrenceville
Mercerville
Pennington
Princeton
Princeton Junction
Robbinsville Township
Titusville
Windsor (East Windsor, West Windsor)
Bucks County, PA
Fairless Hills
Langhorne
Levittown
Morrisville
Newtown
Washington Crossing
Yardley
Monmouth County, NJ
Allentown
Cream Ridge
Millstone Township
Roosevelt
Middlesex County, NJ
Cranbury
Monroe Township
Plainsboro
Somerset County, NJ
To learn more, contact us via
this form
or by calling us at 609-448-1273!
See also:
Princeton, West Windsor, Millstone, Hopewell & Cranbury NJ