Indoor Air Quality (IAQ) Systems for Mercer County and Bucks County
Homes and Businesses
What is "Indoor Air Quality" all about? In modern structures, instead of opening the windows, we typically use HVAC equipment to cool and heat our homes and businesses. As a result, contaminants in the building become more concentrated, and control of pollutants like airborne dust and dirt particles, odors and gases, viruses, allergens, bacteria, volatile organic compounds (VOC's), and ozone can become a problem. Improving your building's indoor air quality (IAQ) can significantly decrease the amount of pollutants in your air, and help make a healthier, more comfortable environment. Clean treated air increases the efficiency and overall lifespan of the HVAC equipment in your home or commercial space. That's something to help you breathe easy!
SG Heating & Air Conditioning LLC services and installs a variety of Indoor Air Quality systems throughout our service area, which includes (but is not limited to):
Burlington County, NJ
Bordentown
Chesterfield
Columbus
Georgetown
Mansfield
North Hanover
Monmouth County, NJ
Allentown
Cream Ridge
Millstone Township
Roosevelt
Middlesex County, NJ
Cranbury
Monroe Township
Plainsboro
Mercer County, NJ
Ewing
Hamilton
Hightstown
Hopewell
Lawrence Township / Lawrenceville
Mercerville
Pennington
Princeton
Princeton Junction
Robbinsville Township
Titusville
Windsor (East Windsor, West Windsor)
Somerset County, NJ
Bucks County, PA
Fairless Hills
Langhorne
Levittown
Morrisville
Newtown
Washington Crossing
Yardley
Your Guide to Indoor Air Quality Purification Systems
Although all air purifiers are designed to achieve the same overall effect of making air cleaner and safer to breathe, not all systems do this the same way. There are several categories of air purification, and depending on your building's specific needs, any or all of them may be the best option for you.
IAQ Ventilation Systems
Chances are, your building contains bathroom, exhaust and/or attic fans. These mechanisms pull air out of the building, creating negative pressure inside. This draws air from outside into the structure. Although this creates airflow, it offers no control over the quality/quantity of the air being brought in. Systems such as dedicated outdoor air systems, make-up air units, and energy recovery ventilators address this problem by providing predictable, measured amounts of filtered fresh air into the building in sufficient quantity to help dilute contaminants but not so much as to waste energy.
IAQ Filtration Systems
Filtration systems catch pollutants in a filter, which is where they get their name. A high-efficiency filter is a wise investment for the health of everyone in your home or business, as well as your heating and cooling systems. Did you know that replacing a dirty, clogged filter with a clean one can lower your air conditioner's energy consumption by as much as 15%? Filtration systems can be included in installations of electric or gas furnaces, air conditioners, or geothermal heat pumps. Almost anything that has a blower system can be equipped with a filter.
Minimum Efficiency Reporting Values (MERVs) are an important consideration.
MERV ratings are used to measure the performance of filters, with higher ratings indicating a greater ability to capture particles. Intuitively, you might think you'd want to go with the highest possible MERV rating so that your system will capture the most pollutants. However, a MERV rating that's too high could increase static pressure and decrease airflow, with the negative effect of hampering an HVAC system's efficiency. Finding the ideal MERV rating for your HVAC system is the first step in deciding on the right filtration system for you.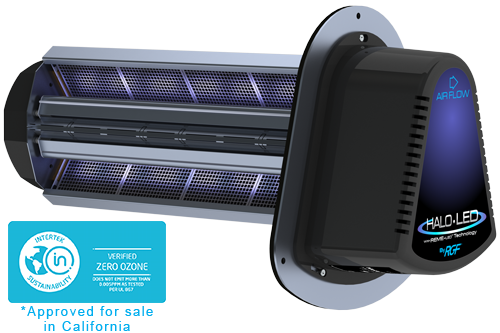 A UV catalytic system
IAQ Systems Using UV Light
Another method of purification relies on an active catalytic device using UV light. This method of purification kills organic compounds in the air and throughout the building, such as bacteria, mold and VOC's. UV light interacts with the catalyst and moisture in the air to create hydroxyl ions that destroy the DNA of these organisms to neutralize or kill them, and oxidizes chemicals which, like other air purification methods, helps keep your home or business' heating and cooling systems running at peak efficiency while making your air healthier to breathe.
Can your indoor air quality be improved? Almost always! But, each home and commercial space is different, and requires an assessment and analysis to determine the most effective and beneficial systems. To find out what steps will help you achieve the greatest benefit, schedule an appointment with SG Heating & Air Conditioning LLC. Remember, you can have an IAQ system installed on its own or as part of an AC installation.
We're currently offering a
$200 discount
on REME Halo Photocatalytic Indoor Air Quality System Installations!
Call us at 609-448-1273 today or fill out this form!
Princeton, West Windsor, Millstone, Cream Ridge, Hopewell & Cranbury NJ