We Sell, Install, & Repair Thermostats
in Millstone, Princeton & Other Central NJ Communities
The installation of a thermostat is essential for controlling your home or business's heating and cooling. Whether you're replacing your entire HVAC system or just want to upgrade to a smart thermostat, the technicians at SG Heating & Air Conditioning LLC are the thermostat installation experts to call! We
sell and install thermostats from ecobee® and other top brands, including a range of classic models, modern upgrades, and even specialty thermostats.
How Do Thermostats Control Temperature?
Thermostats work by sensing the space temperature and sending a signal to heat or cool until the temperature matches the set point (the temperature you've instructed the thermostat to reach and maintain). Exactly how your thermostat does this depends on what it's hooked up to. A furnace thermostat usually works by turning on the fan and burner to raise the temperature, and will turn off when the desired temperature is achieved. A thermostat connected to air conditioning prompts a fan to turn on once it gets too hot. Other thermostats are linked to valves or circulators, and respond to a decrease in temperature by opening and closing these valves or circulators to bring hot water into a radiator.
Without a thermostat, controlling your home's heating and cooling is a chore. For example, when you turn on your furnace in the fall, the temperature will fluctuate from too hot to too cold. Every time it gets uncomfortably hot or cold, you'll have to manually adjust the furnace or its dampers or valves, or throw another log on the fire. Thanks to Albert Butz, who patented the first electric thermostat in 1886, this inconvenience is a thing of the past!
The 4 Main Types of Thermostats
Non-Programmable Thermostats
What image comes to mind when you picture a thermostat? If you picture a round device with a dial on it, that's a non-programmable thermostat. However, some non-programmable thermostats are digital, and not as old-fashioned as the dial-type thermostats that some of us grew up with. There's nothing wrong with non-programmable thermostats, as long as you remember to regulate them. For instance, before you leave the house on a winter's day, you'll have to remember to lower the setting if you want to save energy – your non-programmable thermostat won't lower itself.   
Programmable Thermostats
With a programmable thermostat, you can save multiple set points for daytime, nighttime, and weekends. This means you can decrease your energy consumption when you don't need as much heating or cooling, such as during the day while you're away at work. You can also create a night setback setting, where the thermostat will automatically go to a lower temperature at bedtime, saving you the trouble of manually lowering it every night.
Smart Thermostats
Want a programmable thermostat with even more benefits? Get a smart thermostat! What makes a smart thermostat so smart? For one thing, some smart thermostats can adapt their settings based on your habits, such as your preferred temperatures and your schedule. With an app, you can regulate the temperature in your home, so you can save on energy when you're away and come home to a comfortable temperature. Since wi-fi thermostats let you control the temperature remotely and can warn you about problems, they're especially well-suited for vacation homes and other residences that are vacant for days or weeks at a time. The ecobee® 5 thermostats we sell and install are not sold on the consumer market – they're only available from contractors. These thermostats include Alexa, meaning they can respond to voice commands if you enable this feature!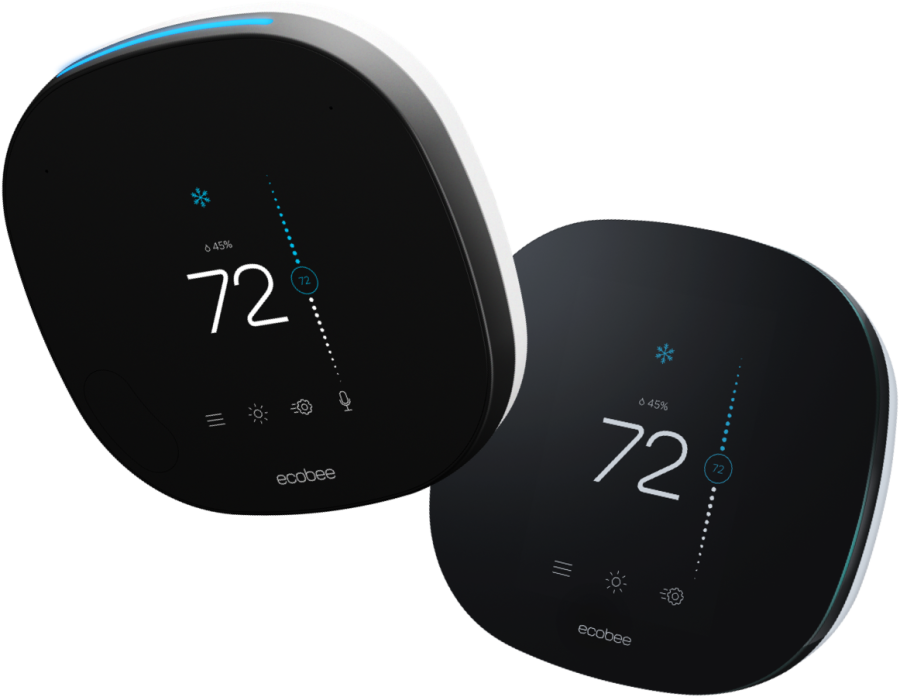 ecobee® Wi-Fi-enabled smart thermostats
Proprietary Communicating Thermostats
Some manufacturers offer thermostats that communicate digitally with their equipment. This turns the thermostat into a digital interface. It allows the technician to set a variety of parameters and troubleshoot the equipment right from the thermostat's screen! Communicating thermostats are brand specific, like the Carrier Infinity thermostats, and are usually installed in conjunction with a new system.
In addition the these four main categories, we also sell a range of specialty thermostats. Those who are visually impaired can benefit from large-screen thermostats, or can use talking thermostats that respond to voice commands! We also sell fixed, non-adjustable and tamperproof  thermostats for commercial spaces.
Thermostat Maintenance
Thermostats are among the most low-maintenance components of an HVAC system. The main thing to remember is to keep the thermostat clean and replace its batteries when necessary, usually once a year. The accumulation of dirt inside a thermostat can throw off the device's calibration and lead to inaccurate temperature readings. This, in turn, can trick the thermostat into signaling for excessive heating or cooling that will drive up your energy consumption. If you're one of our
HVAC Maintenance Plan
 customers, we'll take care of cleanings and battery replacements for you as part of your Precision Tune-Up.
Our Maintenance Plans, as well as our thermostat services, are available throughout our service area, which includes areas of NJ and PA such as:
Burlington County, NJ
Bordentown
Chesterfield
Columbus
Georgetown
Mansfield
North Hanover
Monmouth County, NJ
Allentown
Cream Ridge
Millstone Township
Roosevelt
Middlesex County, NJ
Cranbury
Monroe Township
Plainsboro
Mercer County, NJ
Ewing
Hamilton
Hightstown
Hopewell
Lawrence Township / Lawrenceville
Mercerville
Pennington
Princeton
Princeton Junction
Robbinsville Township
Titusville
Windsor (East Windsor, West Windsor)
Somerset County, NJ
Bucks County, PA
Fairless Hills
Langhorne
Levittown
Morrisville
Newtown
Washington Crossing
Yardley
Thermostats can last up to 35 years, but it's not unusual to replace a thermostat sooner due to technological changes. With the advent of wi-fi technology, non-programmable thermostats have become largely obsolete, so many people find it advantageous to upgrade to a smart thermostat. 
For thermostat installations, repairs, and replacements, go with SG Heating & Air Conditioning! Call 609-448-1273 or fill out our
contact form
 to get in touch with us.  
Princeton, West Windsor, Millstone, Allentown, Hopewell & Cranbury NJ
Skip to content