Furnace & Heat Pump Repairs & Installations in the Princeton, NJ Area
If you expect to make it through the coldest winter days and nights, it's essential to have a gas furnace or heat pump you can rely on. When your furnace or heat pump needs repair or is due for a replacement, then you need a heating contractor who will work efficiently and professionally to make your home or business welcoming and warm again. At SG Heating & Air Conditioning LLC, we install heat pumps and gas furnaces from two leading brands, Carrier

®

and Payne. We also have experience in performing repairs on virtually all major brands of furnaces and heat pumps.
What is a furnace?
Furnaces are a tried and true heating method, and although their design and fuel sources have evolved over the years, the basic principle remains the same: burning fuel to create heat and then distributing that heat throughout the building. All furnaces contain burners to deliver and burn fuel, heat exchangers to heat the air, blowers to deliver the heated air to vents, and a flue to expel gaseous by-products.
What is a heat pump?
Despite their name, heat pumps can be used for cooling during the summer just as easily as for heating during the winter. That's because heat pumps move heat without generating heat, and since they can bring heat in to warm a building, they can also perform this process in reverse to remove heat. When heating, liquid refrigerant contained in the outside coil absorbs heat from the air and evaporates. This refrigerant, now a gas, goes through the indoor coil and releases heat as it returns to liquid form. In addition to air-source heat pumps, there are also geothermal heat pumps, which take heat from the earth's thermal mass. Each one takes heat from one location and transfers it to another by taking outdoor heat energy and bringing it indoors (or vice versa when it's cooling). Not sure whether a heat pump is right for your property and, if so, which kind would be best? We'll help you figure that out at your consultation!
Furnace Repairs
With proper maintenance, a furnace can last about 15 years or so. Some of the most common issues furnaces run into can be attributed to lack of maintenance, such as letting filters get dirty and clogged without replacing them. If your furnace is on the blink, whether due to lack of maintenance or some other cause, don't hesitate to call us!
Furnace Installations and Replacements
Is it time to replace your old furnace? If your furnace is at least 15 years old, it may be time for a replacement! It's also a good idea to replace a furnace if you're replacing your AC system, so that the furnace can be sized to be energy-efficient and compatible with the rest of the system. Much like an
oversized AC system
, an oversized furnace will be inefficient and prone to break down.
Heat Pump Repairs
Whether your heat pump is blowing cold air, not blowing at all, making a weird noise, or even if there's a strange smell from your HVAC system, we have the necessary know-how to diagnose it.
Heat Pump Installations and Replacements
Heat pumps can last 10 years or more with proper maintenance. When you need a new heat pump as a replacement or a brand-new installation, SG Heating & Air Conditioning is the company to call.
Advantages of a Heat Pump
Some people think heat pumps are only effective in mild climates because they can't handle the heating demands of cold winters. While there was a time when this was true, the fact is that modern heat pumps with inverter drives are effective in temperatures as low as 0 degrees Fahrenheit. They're just as effective as oil furnaces or electric furnaces, but more efficient. That's because the heating and cooling capacity of a heat pump is greater than the equivalent electric resistance heat source consumes. A heat pump that's properly designed and installed offers efficiency as high as 300%. Heat pumps are also versatile, as their heating process can be reversed for cooling during hot months.
Advantages of a Gas Furnace Over an Oil Furnace or Electric Furnace
Of the three main types of furnaces (gas, electric, and oil) we install gas furnaces whenever possible because we believe they're the best overall. For one thing, they're the most energy-efficient type of furnace, because natural gas furnaces can run in condensing mode, which most oil furnaces cannot. Gas furnaces are the most popular type of furnaces in the U.S. They're easy to install as long as your property is connected to a gas line, as most buildings in our area are. Because it burns cleanly, natural gas is also the greenest option. Finally, gas furnaces offer convenience: the furnace gets its fuel from your underground gas lines, so you don't have to worry about expensive oil tank fill-ups.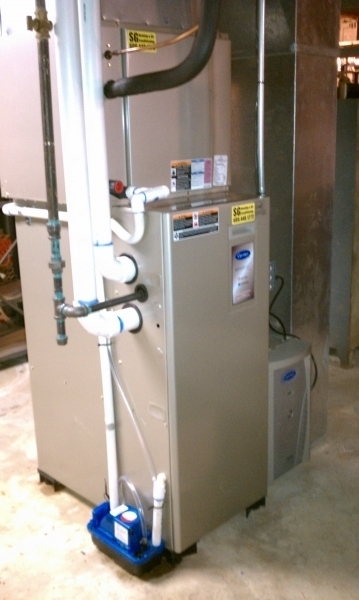 Not sure whether a heat pump, furnace, or boiler is best for you? You don't have to figure that out on your own. Your building's heating system is a purchase you'll live with for years, so consulting a professional is the best way to make an informed decision. SG Heating & Air Conditioning will help you weigh your options carefully before you go ahead with your installation. We've repaired and installed countless furnaces and heat pumps in homes and businesses throughout our service area – yours could be next!
Burlington County, NJ
Bordentown
Chesterfield
Columbus
Georgetown
Mansfield
North Hanover
Monmouth County, NJ
Allentown
Cream Ridge
Millstone Township
Roosevelt
Middlesex County, NJ
Cranbury
Monroe Township
Plainsboro
Mercer County, NJ
Ewing
Hamilton
Hightstown
Hopewell
Lawrence Township / Lawrenceville
Mercerville
Pennington
Princeton
Princeton Junction
Robbinsville Township
Titusville
Windsor (East Windsor, West Windsor)
Somerset County, NJ
Bucks County, PA
Fairless Hills
Langhorne
Levittown
Morrisville
Newtown
Washington Crossing
Yardley
Princeton, West Windsor, Millstone, Lawrenceville, Hopewell & Cranbury NJ
Skip to content