Water Heater Installations and Repairs in Mercer & Monmouth Counties
Hot water is a basic necessity, and how your home or business gets its hot water is one of the most important plumbing-related decisions you can make. 
The first major decision in installing a new water heater is what type of system to get. For a quick rundown on the basics of tankless and storage-tank type water heaters, take a look at this infographic: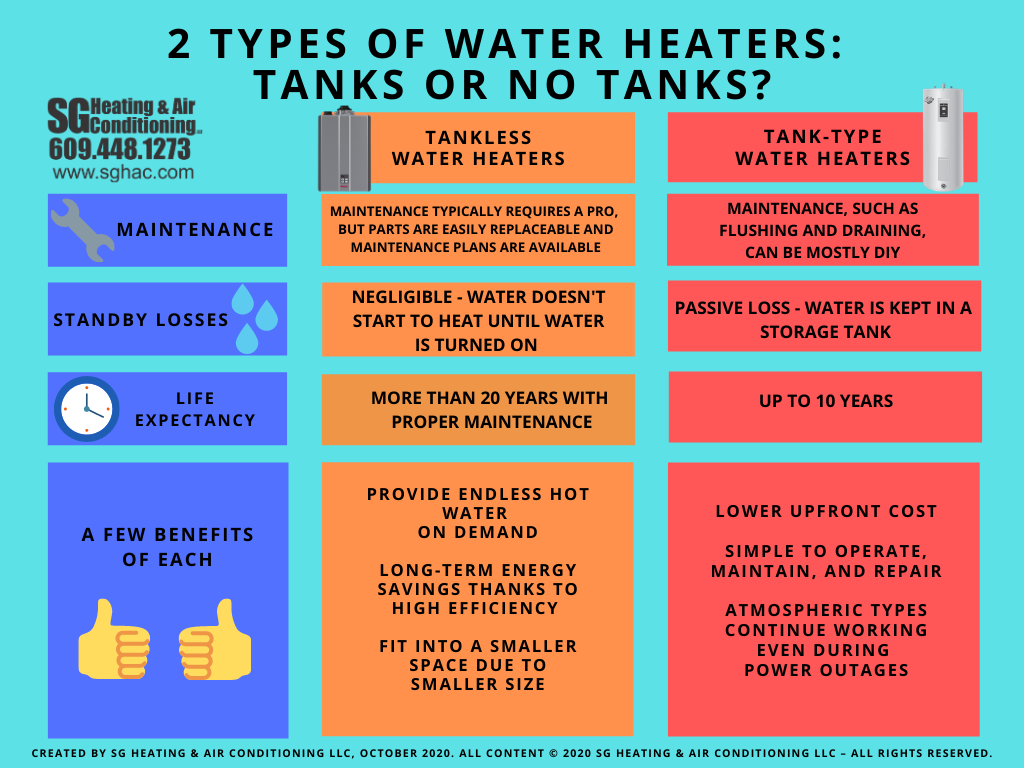 Benefits of a Storage Tank Water Heater
Storage tank water heaters are a reliable and time-tested hot water source, using a small but constant supply of energy to keep stored water hot. Like tankless water heaters, they can be powered by gas or electricity and come with several benefits. 
Overall, storage-tank water heaters are simpler mechanically than tankless water heaters, so they're generally less expensive to purchase and install. This simplicity also means simpler operation and easier, less expensive repairs. Plus, storage tank water heaters keep enough hot water at the ready to supply multiple appliances at once, while some tankless water heaters can only produce enough hot water for one appliance at a time. While they aren't as energy-efficient as tankless water heaters, the brands we install include features that offer opportunities for huge energy savings.
Ask about our Water Heater Mixing Valves!
We recently started offering an option to provide you with more hot water and increased safety against scald hazards. Available with new installations, a water heater mixing valve allows you to increase your water heater's capacity at a lower cost than installing the next-size larger water heater.

A standard water heater is usually set to keep the water in the tank at about 120°F; if it were any hotter, it could scald you when it comes out of the tap. A mixing valve allows us to safely keep the water in the tank at a higher temperature (which has the added benefit of killing legionella bacteria). The valve then mixes cold water with the stored hot water to regulate the temperature to 120°F, thus increasing the amount of available hot water. This makes a 50-gallon tank with a mixing valve comparable to a standard 75-gallon tank, but at a lower installation price. 

So if your 50-gallon tank isn't keeping up with your family's needs, you've installed a Whirlpool tub, or you need a 75-gallon tank but don't have room for one, a mixing valve may be the solution you've been looking for!  Be sure to ask our team about mixing valves when you call for your free water heater estimate!


Benefits of a Tankless Water Heater
Tankless water heaters tap directly into your main water supply and heat water on demand, giving you access to hot water almost instantly. You'll have a virtually unlimited supply of hot water as long as maximum usage is properly calculated, and you'll save energy by heating water only when you need it. According to the 
U.S. Department of Energy
, a tankless water heater in a home that uses 41 gallons of water daily will offer up to 34% greater efficiency than a storage-tank water heater.
Without a tank to worry about, these systems take up less space, giving you more flexibility in terms of where you can have one installed. Crawl spaces and attics are two places where a traditional water heater typically wouldn't fit but a tankless water heater often can. 
Tankless water heaters tend to cost more to buy and/or install than tank-type heaters, but by paying more upfront, you can save money in the long run by lowering your utility and energy costs, thanks to the efficiency these systems offer. Not only that, but with proper maintenance, these systems also offer up to twice the 
average lifespan of tank-type water heaters
. One reason for this is that components are easy to exchange and every part is replaceable, so chances are you won't have to replace the whole system before the end of its life. If you do happen to need a water heater replacement, now is the perfect time to call us. We're currently offering a $50 discount on water heater replacements!
Benefits of Our Brands
Rinnai
Rinnai tankless water heaters use state-of-the-art technology to bring you convenience and control, with optional wi-fi connectivity to the 
Rinnai Control-R™ Wireless Module and App
. Use your smartphone or tablet to change the water temperature, activate recirculation, and more.
Bradford White
One of the oldest and most highly regarded water heater brands, Bradford White's gas water heaters are among the safest you can buy, thanks to the 
Defender Safety System®
. This system prevents flames from escaping the water heater, so that even if there are flammable vapors in your home, the water heater will continue to operate safely without the risk of a gas explosion.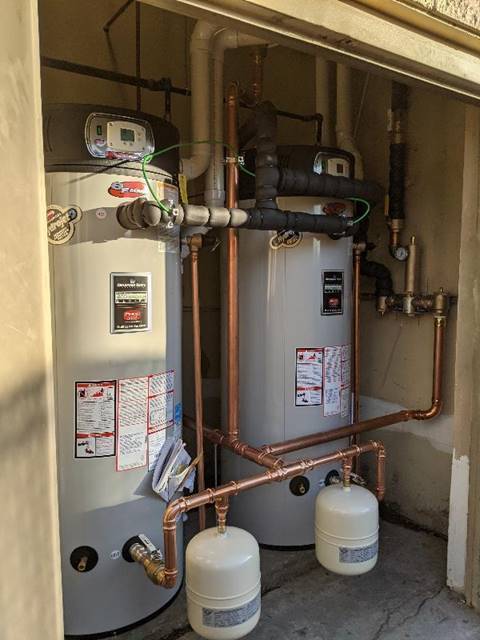 A commercial tank-type heater weater, installed by SG Heating & Air Conditioning LLC in Bordentown, NJ. This particular installation project won a nation-wide competition in 2022.
Benefits of SG Heating & Air Conditioning LLC
We're a Rinnai Pro Dealer and an Advanced Comfort Expert™ (ACE), which means Rinnai trusts us to sell, install, and service Rinnai Products. This certification is only given after a company receives training from Rinnai professionals, and demonstrates our commitment to making sure Rinnai products work for you as well as they're designed to. We hold a similar certification with Bradford White, meaning that whichever brand makes the product, you can be sure of a top-quality job when we install it for you. We've installed countless water heaters throughout our service area, which includes places such as:
Burlington County, NJ
Bordentown
Chesterfield
Columbus
Georgetown
Mansfield
North Hanover
Monmouth County, NJ
Allentown
Cream Ridge
Millstone Township
Roosevelt
Middlesex County, NJ
Cranbury
Monroe Township
Plainsboro
Mercer County, NJ
Ewing
Hamilton
Hightstown
Hopewell
Lawrence Township / Lawrenceville
Mercerville
Pennington
Princeton
Princeton Junction
Robbinsville Township
Titusville
Windsor (East Windsor, West Windsor)
Somerset County, NJ
Bucks County, PA
Fairless Hills
Langhorne
Levittown
Morrisville
Newtown
Washington Crossing
Yardley
Remember earlier when we mentioned that tankless water heaters require maintenance to reach their full life expectancy? SG Heating & Air Conditioning's subsidiary, SG Plumbing LLP, can help make sure this happens with our Tankless Water Heater Coverage, which is one of the
Maintenance Plans
 we offer to our customers. The plan covers one annual inspection, as well as labor for a biennial (once every two years) chemical cleaning. 
Fill out our 
contact form
or call us at
609-448-1273
to speak to someone at our office today!
Princeton, West Windsor, Millstone, Lawrenceville, Hopewell & Cranbury NJ
Skip to content